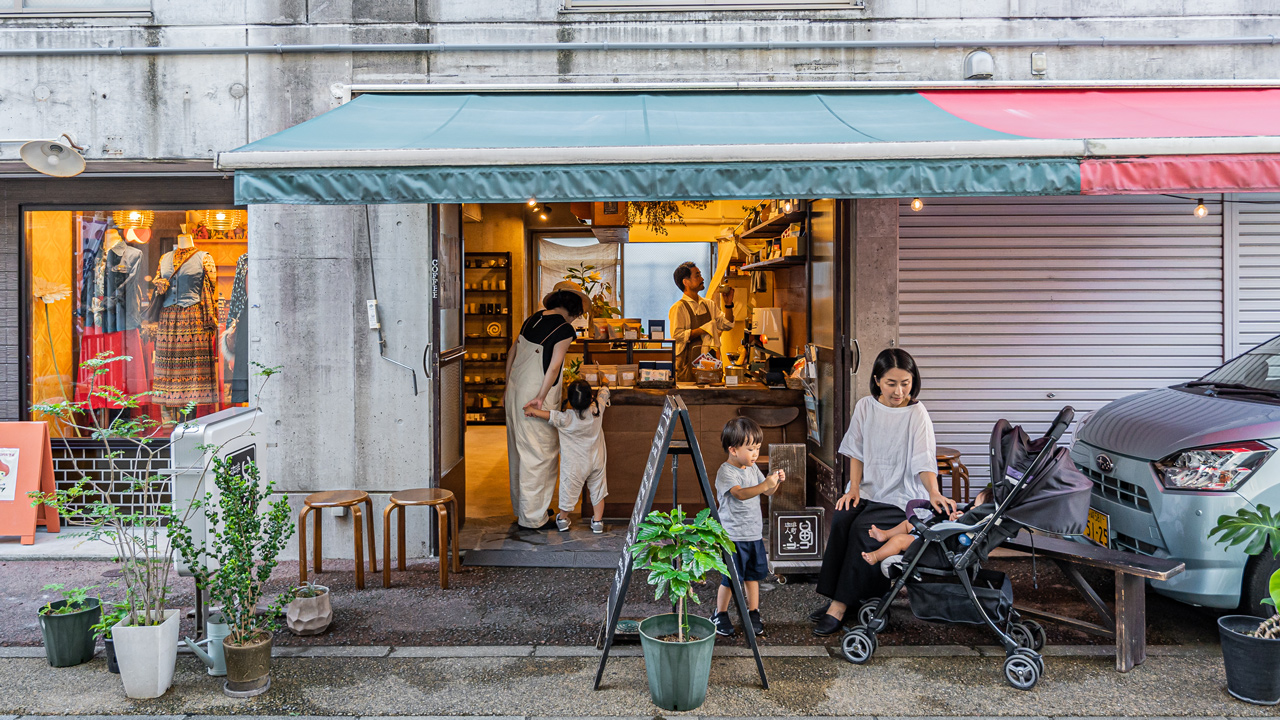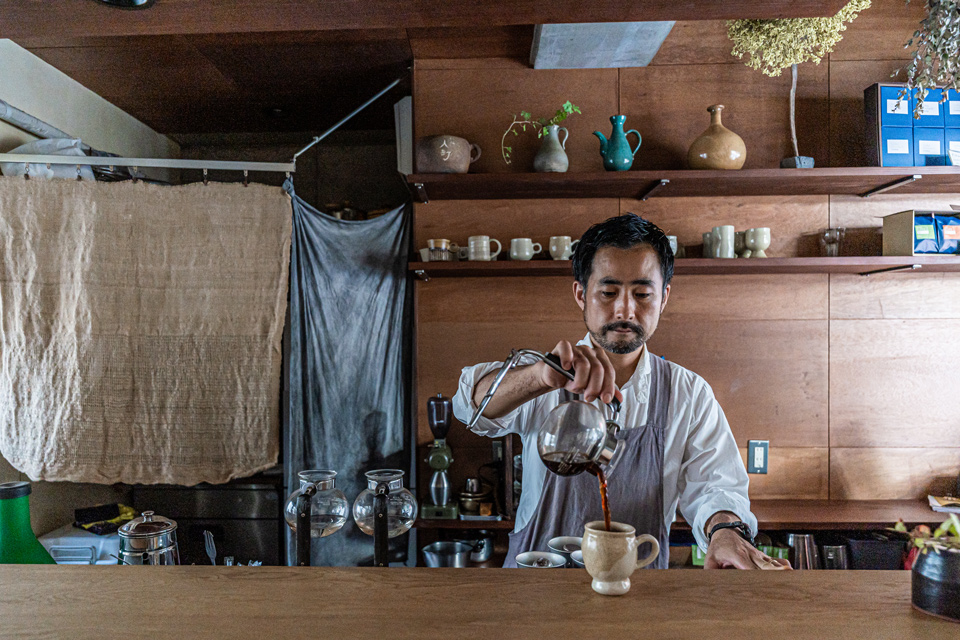 畑の果実が一杯のコーヒーになるまでの長い歩み。コーヒー豆は、風土に育まれ人の手によって輝き出す。
それを教えてくれたのは、沖縄・国頭村安田のアダコーヒー。そして渡航した時に体感したブラジルの小さな農園。
世界各地でそれぞれの輝きを持つコーヒー豆。的を見極め僕の全てを注いで火を入れる。
日々の仕事は、焙煎・抽出して一杯のコーヒーをお客さまに届けることだ。
コーヒーは出会い。僕は今日も人町のカウンターに立つ。
It is a long journey that the fruits in the coffee trees eventually makes a cup of coffee. Coffee fruits are nurtured in the climate of the earth, then the people put in their work to make aromatic beans.
I have always admired the craft of making coffee, by which my passion and inspiration come from Ada Coffee, located in Ada, Kunigamison, Okinawa as well as my enlightening experience at some small coffee farms in Brazil.
All types of coffee beans that exist in the world have different characteristics, each unique with its brilliance. I set my target to focus into the roasting process in particular.
My daily mission is to roast coffee beans, brew them and deliver a cup of coffee to the customers.
Coffee breaks create opportunities of encounters to the people. Thus, I standby at a coffee counter eager to meet people who comes by in COFFEE HITOMACHI.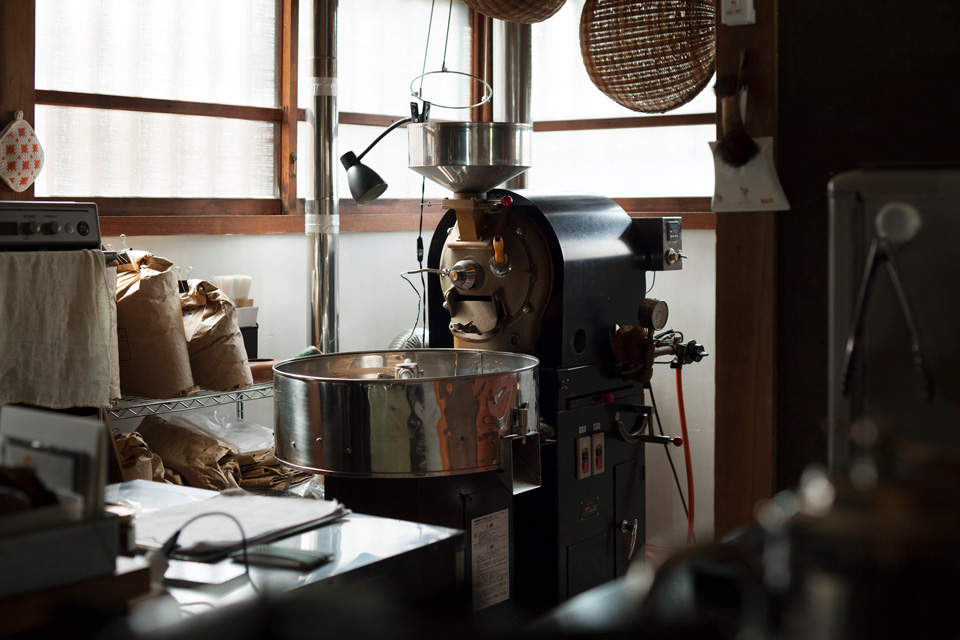 コーヒー栽培、生産プロセスは日進月歩。生産者である農家の真摯な取り組みと探究心が多彩な豆を生み出します。生豆との出会いは生産者の想いがそのまま伝わり、私たち作り手が焙煎に取り組む原動力となっています。
コーヒーは完熟した果実から出来る食品です。「珈琲人町」の焙煎は少し強めですが、フレッシュな酸味は大切にしています。苦味が重なって生まれた甘味に、酸味が奥行きを与えてくれます。
自分の手で新たな味を創造するために、素材の良さに甘えることなく心を込めて豆を煎る。そして作り手によって、さらに輝くコーヒーが「珈琲人町」の願いであり日々の仕事となっています。
The coffee cultivation and its production is progressing day by day. As the producer, farmers create various types of coffee beans through their creativity, dedication and effort. Each time we receive coffee beans freshly harvested by the farmers, it inspires us, whilst creating a driving force towards the roasting process.
Coffee is a food made from ripe fruit. The roasting of "COFFEE HITOMACHI" is slightly more intense, but we value the fresh sourness. Acidity of coffee gives depth to the sweetness born of overlapping bitterness.
Aiming to create the new taste, I put my heart into the craft of making coffee without relying on too much a power of materials.
We, "COFFEE HITOMACHI" as coffee brewers, wish to make coffee outstanding. That is our daily quest and wish.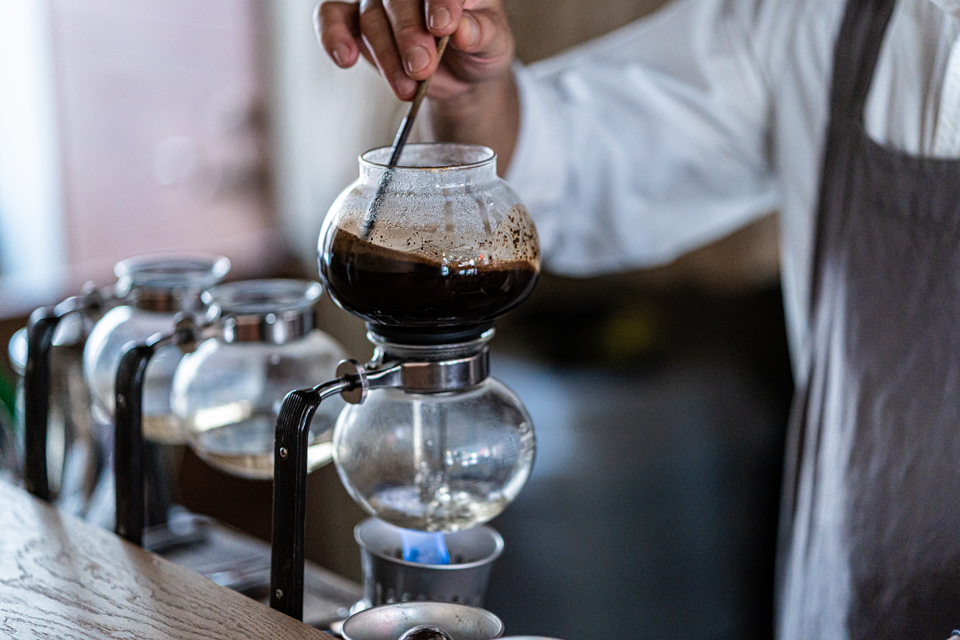 コーヒーを濾過する素材には紙や金属もありそれぞれ良さがありますが、「珈琲人町」では、綿ネルの濾過器を使っています。緩やかにコーヒーの油を通し、油分に溶け込んだ香りや甘味をカップに落とすことで、とろりとした質感が出るのが特徴です。
「珈琲人町」は屋外にあるので、出来上がりの温度が高いサイフォンで抽出しています。
「coffee&clayworks 笠」では、ネルドリップで淹れています。笠のゆったりとした時間の流れに合わせて、じっくりとエキスを搾り出すように。
Some use filters that are made from paper and metal, each of them have its own merit. At COFFEE HITOMACHI, we use the filter that is made of cotton flannel. It is a feature that slowly filtrates the coffee's essence, its wonderful flavor slowly drips into a cup, which creates a mellow texture.
Since "COFFEE HITOMACHI" is located at opened space, coffee is served using a siphon to brew coffee with high temperature.
At "coffee&clayworks Kasa", we serve coffee to the customer with a method called "nel-dripping style"(by pouring brewing coffee using a fabric filter) taking time and extracting the coffee's essence slowly.
Similar to our aim to have our customers wish time moves as slowly as the coffee drips through the filter while having a relaxing time at our cafe.
人町ブレンド
No.1:香ばしさと心地よい渋味
No.2:ロースト香と旨味
No.3:なめらかな苦味と甘味
季節のストレート
ブラジルの豆を中心に、東アフリカや東南アジア、それぞれの収穫・出荷状況で、その時の旬な豆を選んでいます。
沖縄・国頭村安田産「アダ・コーヒー」は、例年11月に期間限定で販売(カップ売りのみ)しています。
水出しコーヒー
夏季限定で3種類ご用意しています。
その他、カフェ・オレ、ジュースなど
豆の量り売り(100gより)
オリジナルドリップバッグ
HITOMACHI Blend
No.1: Toasty and pleasant bitterness
No.2: Roasty, body and flavor
No.3: Smooth bitterness and sweetness
Seasonal Single Origin
We select the coffee beans mainly from Brazil, countries of East Africa and South East Asia. Each of them produce the best beans based on availability.
"ADA coffee" is a local brand of Ada, Kunigamison, Okinawa, which will be available every November as limited edition.(available per cup only)
Cold Brew Coffee
Three kinds of cold brewed coffee are available as limited edition during summer.
Others; Cafe Au Lait, Soft drinks etc.
Coffee beans are available with selling by weight (from 100g)
Original Drip Bags